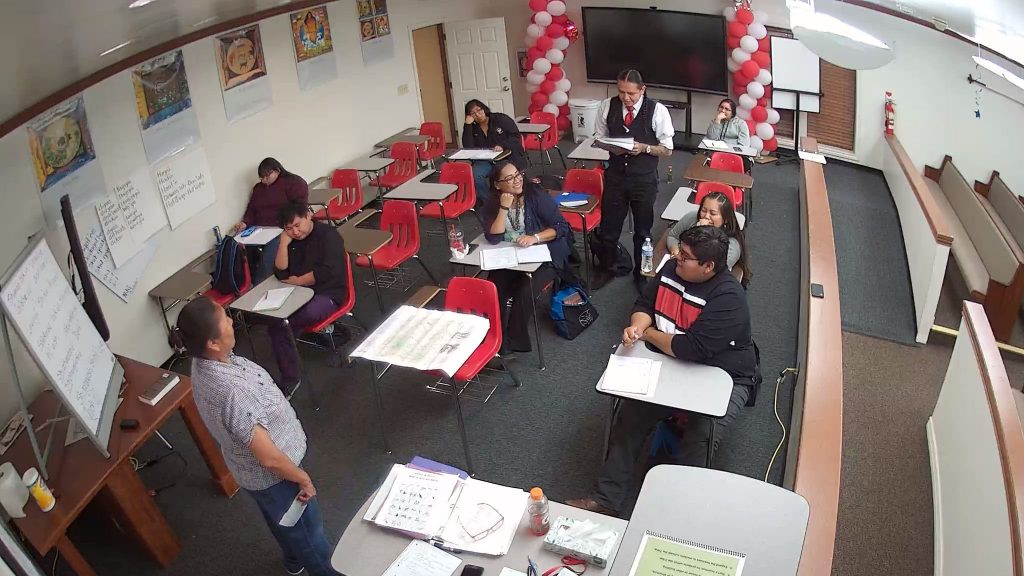 The San Carlos Apache College offers various indoor and outdoor spaces on campus for teaching and gatherings, described in the sections below. Spaces are prioritized for regular class use and other academic purposes. The College also welcomes public requests to reserve available spaces. We encourage you to discuss with us well in advance about your group's specific needs. Please review and submit the SCAC Facilities Use Request Form as soon as possible to initiate a request, as use of the facility is not guaranteed without an approved reservation.
For facilities questions, please contact operations@apachecollege.org or 928-475-2016.
For technology questions, please contact SCAC IT: tech@apachecollege.org or 928-413-1968.
Main Building
This is the former Tribal Administration Building.
MB03 "The Boardroom": Seats 10-12 around a large conference table.
MB05 Computer Lab: Seats 8 at individual Windows workstations. Contains a 55″ interactive display.
MB08 "The Tiny Classroom": Seats 5-6.
MB10 "The Council Chamber": Seats 20+. Contains an 86″ interactive display.
Campus Lawn: Outdoor space in front of the main building.
Joe Montana Building
This is the School of Business and Economic Studies, formerly the Planning Building, and is across the street from the Main Building.
JM01 Computer Lab. Seats 14 at individual Windows 10 workstations. Contains a 55″ interactive display.
JM02 Classroom. Seats 20.
JM Lawn: Outdoor space in front of the JM building.