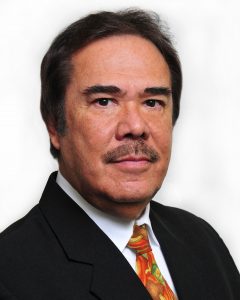 Dr. Martín M. Ahumada is the President of San Carlos Apache College—a newly emerging Tribal institution of higher learning in San Carlos, Arizona.  He most recently served as the Provost—and then as the Interim President—of Diné College, which is the first tribal institution of higher learning in the U.S.  He also served as the President of the International Center for Higher Education & Philanthropy (ICHEP), a nonprofit corporation dedicated to: (1) working in a global context to strengthen and democratize higher education and philanthropy, and (2) preparing a new cadre of Indigenous and other higher education leaders in the U.S. and throughout the world.
As President of ICHEP for over 15 years, Martin Ahumada spearheaded several initiatives to expand the intercultural-international dimensions of higher education and philanthropic institutions in the U.S. and other countries.  These included: (1) the National Initiative on Native American Higher Education, focused on preparing a new generation of Native American leaders, policymakers, and scholars in the field of higher education; (2) the National Institute for Transfer and Articulation, dedicated to facilitating the transfer of students from community colleges to universities across the U.S; (3) the Global Institute on the Spirit of Philanthropy (GISP) enabling influential philanthropic visionaries to address the imperative of transforming the world into a better place through the power of philanthropy; and (4) a "model" philanthropic foundation for Tribal Colleges and Universities (TCUs) which can be a catalyst for innovation and nation-building.
Mr. Ahumada has served as a full-time faculty member with Harvard University's Higher Education Program—where he specialized in business management, finance, public policy, state-level governance, and community college administration.  He also taught in several of Harvard's professional training institutes and in renowned leadership programs in Latin America.  Mr. Ahumada was a guest faculty member with Harvard University's John F. Kennedy School of Government, focusing on the management of schools, colleges, and other nonprofit organizations.  Mr. Ahumada received his Bachelor's degree (in Spanish Literature/Political Science) from Carleton College in Minnesota and his Master's and Ph.D. degrees (in Higher Education Administration) from the University of Arizona in Tucson.  He later served at the University of Arizona as a professor of higher education administration, as the President's liaison to Arizona's community colleges, and as the Director of International-Intercultural Development.  He then served as the first CFO for Eastern New Mexico University-Ruidoso, where he established a campus-wide Office of Business Affairs and created the ENMU-Ruidoso Foundation.
Martín Ahumada was the first Vice President for Education & Research with the Hispanic Association of Colleges & Universities (HACU), where he worked closely with The White House, members of Congress, leaders of the corporate and philanthropic sectors, and the presidents of Hispanic-Serving Institutions (HSIs) in spearheading new national efforts to improve HSIs.  These efforts focused on new research, leadership development, and other initiatives to strengthen the overall capacities of HSIs to better serve Hispanics.  Also, Mr. Ahumada and Eleanor V. Horne of the Educational Testing Service (ETS) co-established the HACU-ETS Policy Fellowship Program.
An expert on community college and university administration and finance, Martin Ahumada has also held key policy-development or advisory roles at the international level with universities and education ministries in various countries; at the national level with NAHE, HACU, the Education Commission of the States, and the State Higher Education Executive Officers Association; and at the state level with the California Postsecondary Education Commission.  With the California commission, Mr. Ahumada chaired several (historic) state-level task forces that established new state policy in the areas of assessment, financing, diversity, and educational excellence; and he was the senior researcher on a landmark nationwide study of collaboration between community colleges and universities.
Martin Ahumada is the author of numerous publications on such topics as: educational excellence and equity; student financial aid and tuition policies; formula, program, and performance-based budgeting; incentive-funding; costing and cost-analysis; and data and information systems.  His current writing interests center on (1) the art and power of transformative leadership; (2) a reinterpretation of the history of American higher education; (3) the value of international perspectives and models for improving the policy leadership and strategic management of higher education in different national settings; (4) strategies to prepare a more diverse community college and university staff & senior management; and (5) the transformative role of the philanthropic spirit in forging new communities & societies.
Martín Ahumada has earned many distinguished awards, including: MAEOPP's "Outstanding Alumni Award; The Outstanding Young Men of American Award"; The "Tomás Rivera Award"; The University of Arizona's "Outstanding Faculty Award"; the University of Arizona Foundation's "Distinguished Citizen Award"; Harvard University's prestigious "ALANA Faculty Recognition Award"; The "Who's Who Among Hispanic Americans Recognition Award"; Carleton College's Alumni Award for Distinguished Achievement"; and the "Father of the Foundation" honor granted by Eastern New Mexico University in Ruidoso.